It's easy to assume that car manufacturing in Britain is a bit-player in the country's secondary industrial landscape. But nothing could be further from the truth – and despite doom and gloom surrounding Brexit as well as falling demand for diesel vehicles, the UK's manufacturing plants are still humming along very nicely, thank you.
It is true that most historic UK brands are now under foreign ownership – only three 'major' manufacturers that build in the country are actually UK-owned companies, and even then, they're small potatoes at most. But with major manufacturers such as Toyota, Nissan and Jaguar Land Rover still operating a significant presence in the UK, it's fair to say that UK manufacturing is still going strong.
Though there are challenges ahead, with the threat of a poor Brexit deal that could impact deliveries, apply import tariffs or make it difficult to build cars at all, car manufacturing in the UK looks set to continue for many years yet. Here are all the major manufacturers who build cars in the UK:
Aston Martin
You couldn't have a list of the best British-built cars without featuring Aston Martin, surely?
It's a firm as well associated with our shores as tea, driving on the correct side and being knocked out of the World Cup prematurely. Finding fame as the choice machine of super spy James Bond, it has grown to become a worldwide statement of luxury.
Better yet, every car it makes is produced here in Britain. Its current offerings are created in Gaydon, while Newport Pagnell plays host to its classic restoration arm. There aren't any signs of it going anywhere either, with a new facility in St Athan, Wales, soon opening as the home of the DBX SUV.
Morgan
Doesn't get more British than Morgan, does it? Hand-crafted in the Malvern hills, these cars have been around for an awfully long time – and they haven't changed an awful lot since they were first put together, in fact. Yes, they use wood in their construction, but this is put alongside lightweight aluminium components and beautiful, hand-rolled body panels.
A new range-topping Plus 8 model is on the horizon – so keep your eyes sharp for a new generation of Morgan car. Just don't expect it to be completely modern in its design.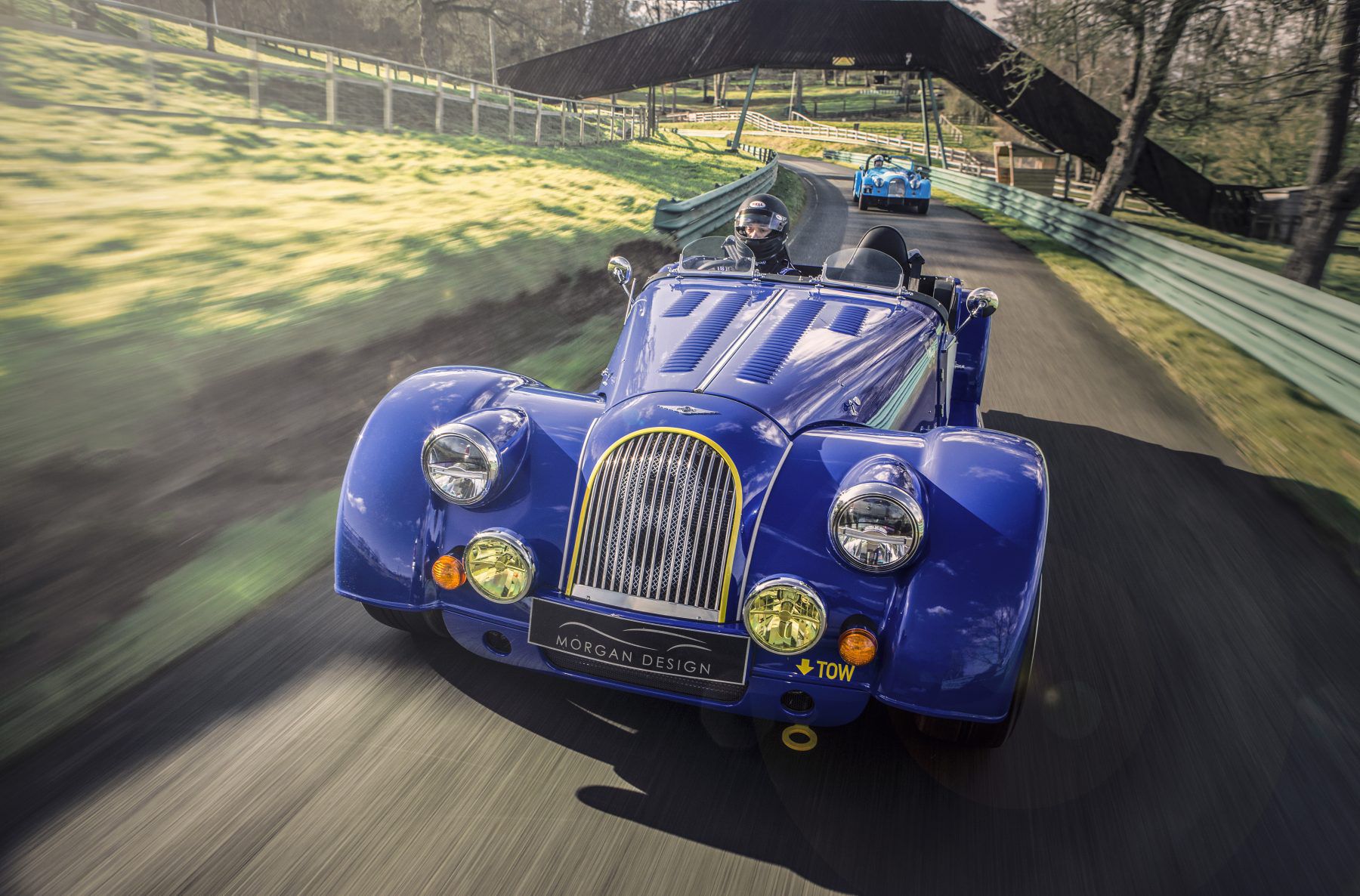 Caterham
Enthusiasts claim that the Caterham Seven is as close to driving nirvana as it's possible to get. We'd have to agree; there's little not to love about the way these two-seaters drive, with their immediate steering and energetic range of engines. They're quick, too – the range-topping 620R will crack 0-60mph in under three seconds, in fact.
And they're still hand-built in the UK too – though of course, there is the option to build them yourself at home. It just depends on how confident you are with the spanners.
McLaren
When thinking of a supercar, most will imagine an exotic Italian machine, clinical German bruiser or maybe even something big and American. But one of the best manufacturers in the segment builds its cars in the unlikely town of Woking in Surrey — McLaren.
Since 2009, McLaren Automotive has gone from a newcomer to a heavyweight in the high-end market. All of its cars are handbuilt in Britain, with chassis and carbon fibre components produced at a new facility in Sheffield shipped to Woking for final assembly.
Mini
Mini's been trading on its British identity since it was reborn in 2001 under BMW ownership – the latest models even have Union flags in the taillights. Though the brand may be German-owned, it's not all toot, either – Mini produces its signature Hatch, Convertible, Clubman and Countryman models in the UK.
Engines are made at a plant in Hams Hall, Birmingham, body assemblies and subframes are made at a plant in Swindon and the whole lot comes together for final assembly at the flagship plant in Cowley, Oxfordshire.
Honda
The Honda Civic is one of, if not the, most iconic nameplates for the Japanese manufacturer — but it might surprise you to learn that most examples of the machine are made here in the UK.
Since 1994, Civics destined for the European market have been built in Swindon, including the high-performance Type R — which has even been exported to Honda's homeland. The plant has also previously produced the CR-V, Accord and Jazz for Europe.
Toyota
Toyota's been producing cars in the UK for longer than you might realise – its first model, a Carina E, rolled off the assembly line at Burnaston, Derbyshire in 1992 and is now proudly displayed in the British Motor Museum, Gaydon.
Since then, the Avensis saloon and Corolla and Auris hatchbacks – some of Toyota's biggest-selling models – have been made at the plant. The brand's commitment to manufacturing cars in the UK remains strong, too, with production of the all-new Corolla now taking place in Burnaston.
Nissan
While Nissan may have recently announced plans to can plans of producing the X-Trail at its plant in Sunderland, it's not all doom-and-gloom for the Japanese firm's operations in the UK.
The firm has had a presence on Wearside since 1984, with its factory up north producing cars for global markets — including Nissan's home country. Currently, it builds the Qashqai SUV, Juke crossover and all-electric Leaf hatchback alongside sister-brand Infiniti's Q30 and QX30.
Lotus
Lotus may now be under the ownership of Chinese automotive giant Geely, but production remains in the same place it has always been — Hethel, Norfolk.
While it may not be a major player in the wider motoring scale, there's plenty to celebrate in Lotus' British engineering and production. Currently, it offers the Elise, Evora and Exige — all in various guises — and is showing no signs of going anywhere.
Bentley
A plant in Crewe is where Bentley, despite being under the ownership of the Volkswagen Group, chooses to hand-build its entire model line-up. The Continental, Flying Spur, Mulsanne and Bentayga all begin life in Crewe before being shipped out worldwide.
Rolls-Royce
Arguably the best-known luxury brand in the world, Rolls-Royce is, like Mini, owned by BMW – but that hasn't stopped it from remaining thoroughly red, white and blue through and through.
The brand employs superior craftsmen and women at its plant in Goodwood, Sussex, controlling everything from the woodgrain used for the interior facings to the bespoke engines under the bonnet.
Jaguar Land Rover
Indian steel giant Tata owns Jaguar Land Rover, but operates most of its production lines in the UK. With the exception of the I-Pace and E-Pace, which are built at the Austrian Magna Steyr plant, and the Discovery, which has recently moved to a new plant in Slovakia, all of JLR's models are built in Halewood, Merseyside, Castle Bromwich and Solihull in the West Midlands. Design and development takes place in Gaydon, a stone's throw from the British Motor Museum, while Headquarters and Classic are based in Coventry.
Vauxhall
Despite being under the ownership of American GM for a large portion of its history and now being under the control of the French PSA Group, Vauxhall still has a manufacturing presence here in the UK.
Ellesmere Port in Cheshire is responsible for building the Astra in both Vauxhall and Opel guises. Uncertainty over the plants future has grown over the past few years, with job cuts by the hundreds, but for now at least it's still going.