Land Rover has significantly expanded its 'Range Rover' line-up in recent years.
No longer just the full-size Range Rover and Sport, there is now the Range Rover Evoque, and more recently the Range Rover Velar has joined the scene too. But as two, high-quality, glamorous SUVs, how do you separate these two cars? Let's dive in and work out which might suit you best.
Styling
Range Rover's smaller SUVs are all about style, and it was the Evoque that first showed a more fashionable side to this brand. Victoria Beckham even played a part in the model's original design.
The Range Rover Velar then came along in 2017, and too prioritised style. With an almost coupe-like profile, flush pop-out door handles and thin LED lighting, it helped to influence a future wave of Range Rovers. That includes the second-generation Evoque, introduced in 2019, which adopted many of the aforementioned Velar details we've already mentioned. There's little to separate them, other than the fact the Velar is noticeably bigger.
Size and practicality
Speaking of size, let's dive into the difference in dimensions between the Range Rover Evoque and Velar. At 4.37m in length, the Evoque is relatively compact by SUV standards and is marginally smaller than cars like the Nissan Qashqai and Volkswagen Tiguan. It's 1.9m in width, while stands 1.65m tall.
Moving on to the Velar, it's noticeably longer, with around an additional 40cm in length – measuring 4.80m. That makes it bigger than cars like the BMW X4 and Mercedes GLC Coupe. It's wider at 1.95m too, though only fractionally taller than the Evoque at 1.69m.
In terms of space, while the first Range Rover Evoque wasn't the most practical, this new model performs much better, with 591 litres of boot space, though that's measuring up to the roof. The Velar, meanwhile offers only slightly more at 632 litres. There's noticeably more space in the back of the Velar, however.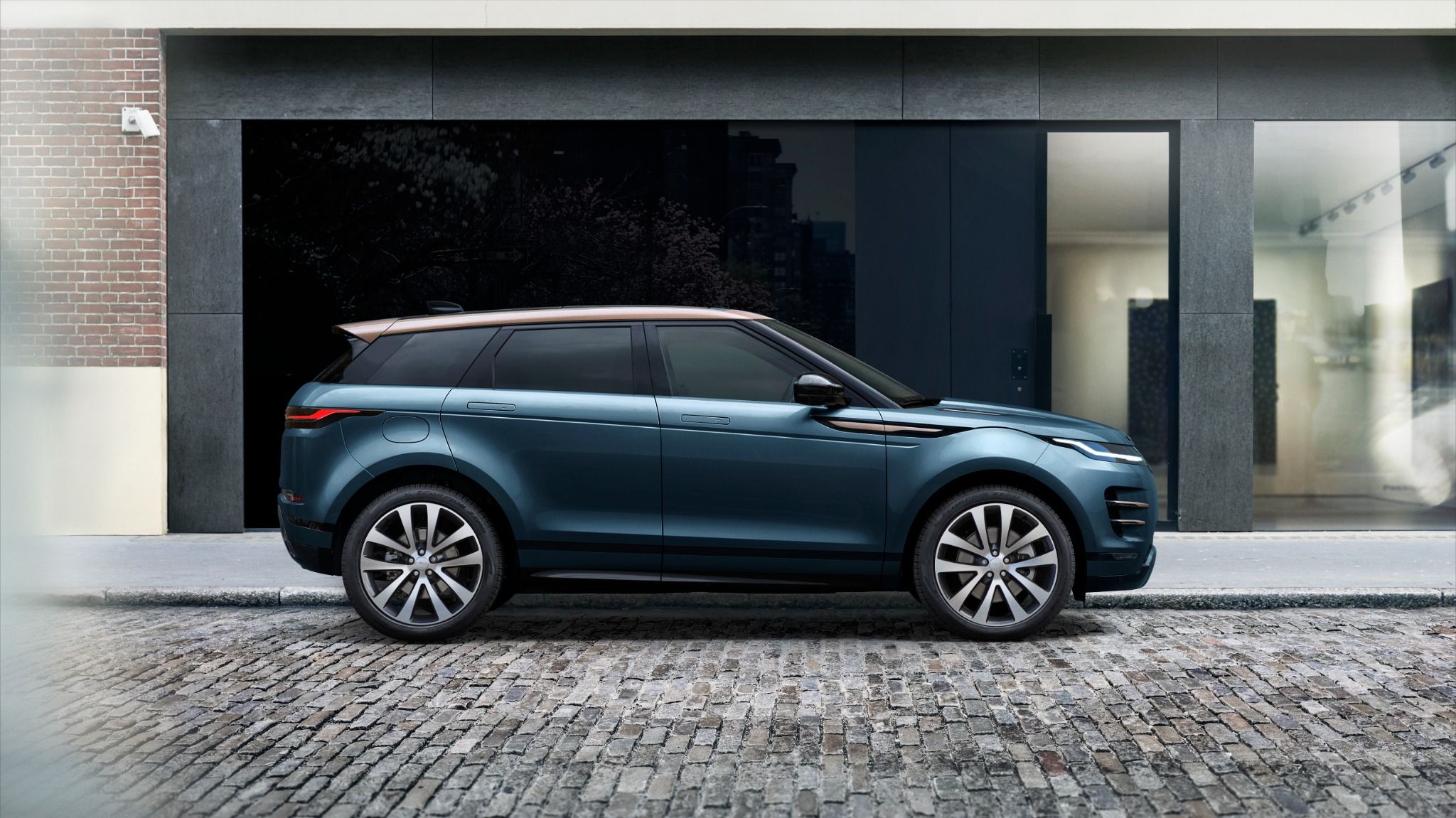 Interior
The interiors of both the Range Rover Evoque and Velar have recently been modernised, and there's not a huge amount to separate them when it comes down to it. While there used to be a lower touchscreen for the climate menu, this has now been integrated into the main touchscreen. This is also now completely new, running on JLR's latest Pivi Pro software, and it's seriously impressive to use.
Land Rover has decluttered both cars' interiors as well, with few physical buttons remaining, and it gives each an especially modern feel.
Engines
What really helps to separate the Evoque and Velar is what's under the bonnet, though each comes with a choice of petrol, diesel and plug-in hybrid engines.
Starting with the Evoque, a D165 (the number correlates to the horsepower) kicks off the range, and can even be had with a manual gearbox. Further up the line-up is the D200, while if you want a petrol, there is the P200. Land Rover also offers the P300e plug-in hybrid, which boasts a range of up 39 miles.
Moving to the Velar, there is the choice of the diesel D200, petrol P250 and then the powerful P400e plug-in hybrid. Not only is this particularly powerful – 0-60mph takes just 5.1 seconds – but Land Rover also claims a range of up to 40 miles from a full charge.
Price
Another easy way to separate the Evoque and the Velar is when it comes to the price. The Range Rover Evoque starts from £40,080, though for an automatic, it will cost £43,665.
In terms of standard equipment, the entry-level Evoque gets LED headlights, 18-inch alloy wheels, grained leather upholstery and electric front seats.
Moving to the Velar, it's noticeably more expensive with its £54,405 starting price. You are paying for its larger engines, though. Standard features also include 19-inch alloy wheels, perforated leather upholstery and a fixed glass roof.
Which to choose?
Deciding between the Evoque and Velar will really come down to personal preference, as both are especially accomplished SUVs.
The Velar's larger dimensions give it a more premium, 'SUV' feel, but as a contrast, the Evoque's smaller size – and still especially practical interior – makes it easier to drive and park, especially around town.
Browse our current Range Rover Evoque and Velar stock!