We're not sure about you but we always find Dad's particularly difficult to buy for. The go-to answers of Beer, CD's and 'dad-style' sweaters and shirts can become rather repetitive and boring.
Most Dads have a hobby or two, whether it's watching sport, catching the one that got away or trying to emulate Justin Rose; so, if you're feeling generous and want to see your Dad's face really light up, whether he's a foodie or a fisherman here are some cars that that would really make you the apple of his eye this Father's Day!
Is a fisherman - Citroën Berlingo Multispace
If your Dad is one of the almost 3 million anglers in the UK, then no doubt he'd appreciate a car that's a fisherman's friend! There are plenty of SUV, MPV and estate cars to choose from, but one that really lends itself to carrying all the rods, reels and baskets is the Berlingo Multispace!
No-one's saying that the Citroën Berlingo Multispace is going to win any prizes for good looks, but if you're Dad's angling for the prefect Fisherman's Friend, then he'll love it if you present him with one of these MPV.
You could trawl through an awful lot of cars before you found one as ideal for the avid angler as this one. The interior is easy to reconfigure, with plenty of combinations to suit fishing tackle and fellow anglers and with an abundance of storage spaces and cup-holders, your Dad will feel like he's in his second home!
Is a foodie - Jaguar XE
Does your Dad love a trip to the latest restaurant? Does he know his tapas from taramasalata; his tuna carpaccio from his steak tartar? Most of us love food, but being a foodie takes it to a whole new level and if your Dad loves to eat out then why not get him behind the wheel of a luxurious Jaguar XE!
When you've finished a scrumptious, sumptuous, delicious lunch, you want to go from five-star restaurant to five-star car and that's just what you get with gorgeous and glamorous Jaguar XE. It may have a sporting pedigree, but it also oozes a luxe feel, wafting your Dad back home from his blow out in absolute comfort and luxury.
Is a golfer - DS7 Crossback
If your Dad loves to play a round or two and would love to score a whole-in-one, then we can help!
We can't improve his swing, stop him getting the yips or make him King of the putters, but we can put him behind the wheel of a car that will turn heads in the golf club car park and give him a back massage at the end of a tough 18 holes!
The car that can do all this? The DS7 Crossback, packed with incredible technology, with room for golf bags, trolleys and playing partners and massaging seats that will take the stress out of a difficult round!
Is a runner - Volkswagen Golf GTi
Is your Dad a road-runner, and we did say a road-runner, not the road-runner, or is he a mountain goat who likes running up and down the fells or maybe even a marathon man? If he feels the need for speed we recommend the iconic Golf GTI.
If your Dad has a surprising turn of speed and stamina, all wrapped up in a Dad-like exterior then the VW Golf GTi is the perfect car for him! Fast and fabulous, but with understated looks, which mean at first glance you'd never know the horsepower that lies beneath its Golf body.
The ultimate wolf in sheep's clothing, the Golf GTi offers speed and endurance that any runner would love.
Is a city slicker - Volkswagen up!
If your Dad recoils from the smell of new-mown hay and would rather be buzzing around the city, than relaxing in the country, then he needs a car that loves the city-life as much as he does.
Standing head and skyscraper above its city car rivals is the Volkswagen up! not all city cars are created equal and the VW up! proves that with its class-leading capabilities. Great to look at inside and out, the interior offers more room than you'd ever imagine, alongside great design and some really funky touches.
If your Dad's a city slicker then the choice is simple; it has to be a VW up!
Is a country lover - Audi e-tron
If your Dad loves the country and is all about looking after our wonderful planet, then he can now do that, go off-road and be in the lap of luxury behind the wheel of Audi's first fully electric car!
If your Dad wants to look after planet earth, but would like to do it in style, then it simply has to be the luxurious all-electric Audi e-tron. An SUV that'll happily take him off-road to enjoy the countryside at its purest and at the same time turn heads around town, the Audi e-tron is the most advanced Audi yet.
So far advanced than the rest of the field, electric goes Audi, sums up this new and sensational addition to the electric car sector.
Is a walker - Range Rover Velar
If your Dad likes to ramble, walking the beautiful hills and dales of the British countryside, then he might as well do it in some style.
Walk don't run; when you walk you see the little details that pass you by when you're running or driving. And if your Dad likes to walk somewhere a little wild and off the beaten track then he'll need something special to take him there and there are few cars more special than the Range Rover Velar. Sophisticated, sensuous with a hit of subversion the Velar is one SUV which refuses to follow the big, bold and chunky brigade, adopting a lower cat-like stance, yet still effective when you go off-road.
Your Dad would definitely love you for this one!
Is a spectator - Land Rover Discovery
Whether your Dad still plays sport in a veteran's team or has hung his boots, stick or racquet and settled for spectating, he'll need to get to the venue and he might as well take friends and family along for the ride.
The beloved Disco has been around a while, though not so long in its latest guise. With 7 seats, all-terrain ability and enough storage for the full team, the Land Rover Discovery is there for your Dad whether he's taking the team to an away game or visiting his home ground to watch the next generation in action.
The Discovery remains one of the most popular SUVs out there, just because it allows you to do exactly what it says on the tin, Discover…whether that be new ground, new friends or new sports, a Discovery will get you here, there and everywhere.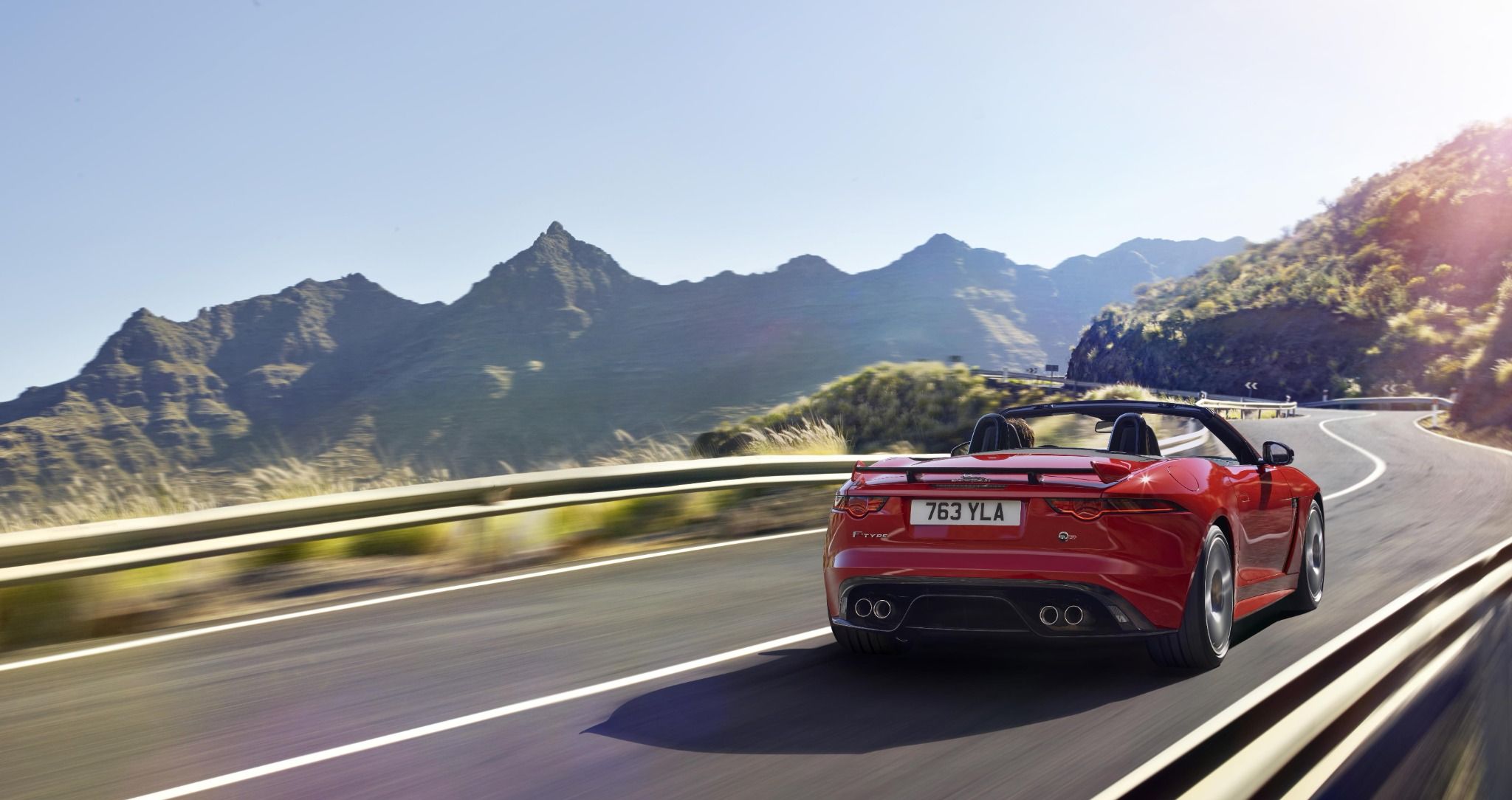 Is young at heart - Jaguar F-type Convertible
Whilst we look older on the outside, inside we remain forever 25 years old! Your Dad may not like to look in the mirror as often as he did, but inside he's still the same young man who swam in the sea on New Year's Day and proposed to your mum with a hula hoop and a grin.
The great thing about getting older is that you don't care what anyone else says or thinks, so if your Dad wants to drive an orange Jaguar F-type, who are you to stop him! This is a classic car, beautiful to look at, with an engine you want to keep listening to, there could be no better gift for a Dad who remains young at heart.
Of course, it has all the tech, leather, performance, blah, blah, blah, that you might expect, but driving a Jag F-type isn't about that, it's about the feeling and the raw emotion. What a gift to give.
Is a bit clumsy
Being clumsy has nothing to do with age, some of us are clumsy our whole lives, and if your Dad is a bit of a klutz then here's a gift he'll love.
Take a look at his car; are the alloy wheels chipped and scratched from his clumsy parking, hitting kerbs with abandon. Then why not make them like brand new, you can even change the colour, make them two-tone, matt or shiny, all of that while the big nicks and scuffs are wiped away.