With a seemingly endless number of small, compact and large SUVs appearing in showrooms it takes something special to stand out from the crowd and as our car reviewer discovered during a test, the all-new Volkswagen T-Roc has that special magic.
Styling
This is one of the T-Roc's ace cards, the looks and lines which are probably the most coupe-like we have yet seen in this sector. With sharply defined, straight edged lines it's an eye-catching car from whichever angle you look at it but most especially from that rear three-quarter view where the dramatically sloping C pillar underlines the `Sports' theme in the Sports Utility Vehicle tag.
At the front a wide `mouth' from the large radiator grille and the secondary air intake beneath the bumper unit emphasise its wide stance and hint at the car's stability and the flared wheel arches merely add to this.
Depending on which model you go for, but I suspect the majority will have it, you can order the T-Roc with the increasingly fashionable two-tone paint scheme with the roof and door mirrors and windscreen frame being a different colour to the main body.
I wouldn't say I am a fan of every combination but most look great and I would recommend you explore the possibilities.
Interior
The T-Roc is a mid-sized SUV, smaller than the current Tiguan but bigger than the forthcoming T-Cross, and is based on the Golf platform so obviously there are going to be some similarities and shared componentry.
However, the T-Roc is a fun car and the first thing you see as you open the door is the colour match between the dashboard and gear lever surround and the outside bodywork.
Again, like the two tone body/roof option, this is becoming a theme in this part of the market and to my eyes it makes the cars look fresh, vibrant, and well, fun. It's nice to have a bit of pizzazz and the T-Roc delivers.
It is roomy and has an excellent driving position with lots of adjustment in the seat and steering column, there is a good amount of room behind and the boot is huge, a double depth area which means it can take long, wide or high items much better than some cars I could mention. One thing I did notice is that the struts holding the boot open were quite stiff on my test car and needed quite a pull to get it down.
I liked the dashboard and controls which are easy to use including the large touch screen between the front seats but like the sister SEAT Arona I tested recently, the hard materials on top of the fascia and dashboard didn't quite sit well with me. I prefer something a little softer to the touch but that's just my personal preference.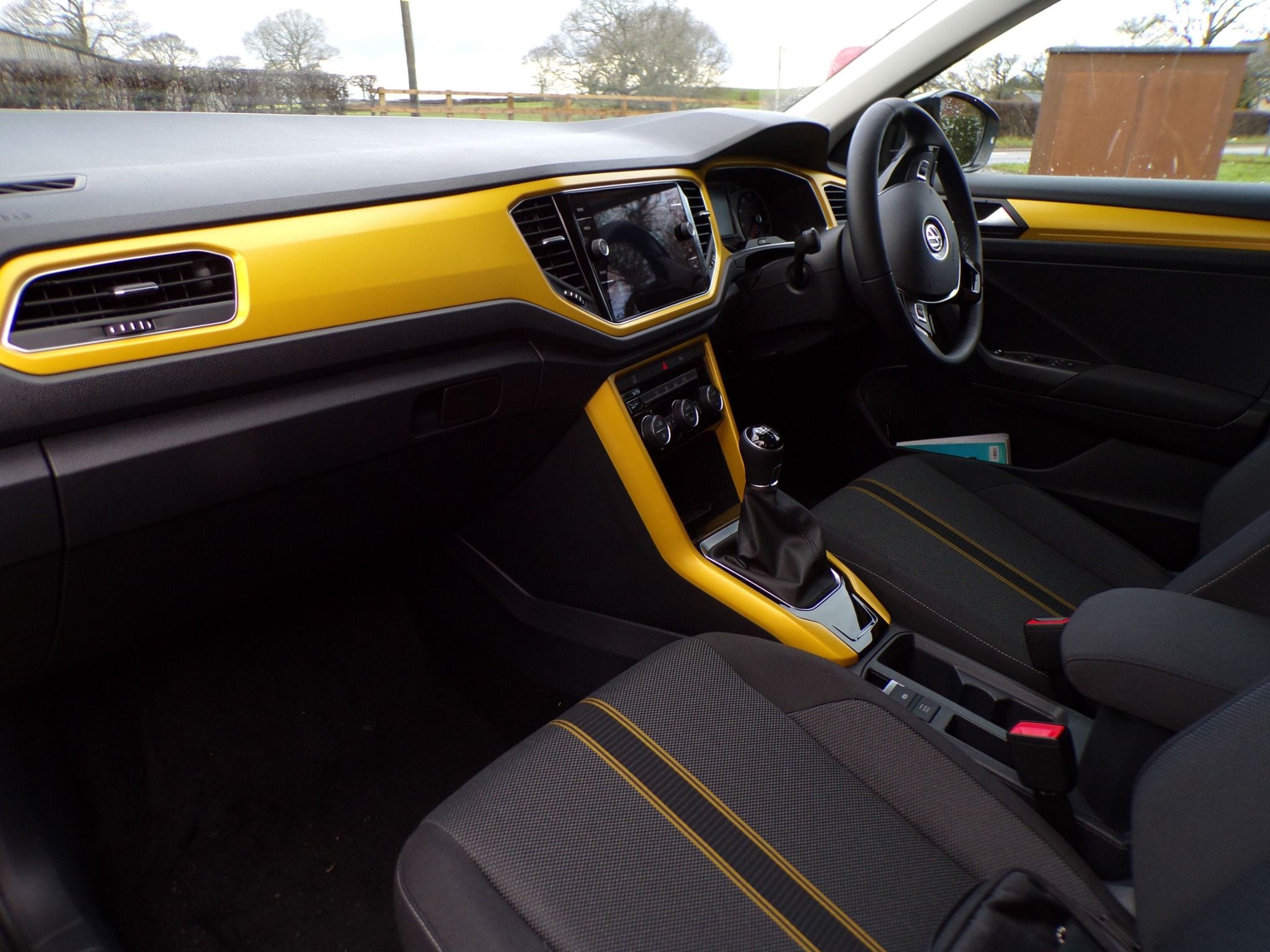 Driving
If the styling is the first of the T-Roc's aces, the driving experience is the second.
Basic physics mean that if a car is high and heavy it will roll more in a bend than a lower and lighter car, pitch forwards more when the driver brakes and be slower to respond to direction changes. That is one reason (among several) why I have never been a fan of SUVs.
However, the latest generation models are getting much better and the T-Roc must be among the best of them. It rides very well, really top notch, and shrugs off the challenge of our rubbish roads with ease.
It has light-ish steering at parking and lower speeds, firming up as you go faster and the cornering is something of a revelation.
That's the chassis but what sits under the bonnet is every bit as impressive. You can have a 1.0 or 1.5 litre petrol engine delivering 115 and 150 PS respectively or a 2.0 diesel but given today's market I wouldn't expect to see many of these being bought. Shame. The 1.0 is used in many VW group cars in both 90 and 115 PS guise but the T-Roc only has the more powerful version and it is a peach. One thing you notice (or maybe not) is how smooth it is. This is a three cylinder engine and typically they have a bit of vibration which is far from unpleasant but is a characteristic but the T-Roc feels as smooth as silk. If I hadn't known I could have sworn this was a four cylinder engine, it is so refined.
Being an SUV there is the option of four wheel drive on the diesels which have a lot more torque but unless you intend towing or going off-road (and how many owners do that?) I don't see the point of paying more.
Specification
This being a VW group car it has lots of goodies. Building cars in the numbers it does (think of all the VWs, Audis, SEATs and Skodas on the road.
You can leave out its other brands, Bentley, Bugatti, Lamborghini and Porsche for this exercise!) means that it has the economies of scale to give customers lots of spec. It's what VW calls `the democratisation of luxury'!
Whatever, the T-Roc has as standard across the range a full complement of safety systems (it was voted safest in class last year in the Euro NCAP crash tests) which is comforting but of perhaps greater appeal is the eight inch touchscreen and all the infotainment you can access from it.
You can even have a pretty advanced sat nav called `Guide and Inform' that gives you things like the nearest fuel station or car park (plus prices) and weather updates for your route.
You can add a lot of app-based features to the basic package and get a very sophisticated and connected car for not a lot of money proving, I suppose, that VW does indeed democratise luxury and bring big car features to it mass market models.
Verdict
This part of the SUV market is getting crowded and it is becoming ever harder for one car to carve out a competitive advantage over the others. They are all good but a few are that little bit better, maybe in one area, maybe in a few. The T-Roc is definitely a leader in the styling, looking sporty and although I dislike the term, classy too.
It rides well, has excellent engines, a fun and practical interior with a relatively huge boot space and it is well priced.
Does that tick every box? I think so.
Browse our current Volkswagen T-Roc stock