What is it?
Audi's RS department has a pretty formidable reputation for making go-faster cars. Models like the RS6 and RS4 spring to mind immediately, bringing with them images of superbly quick cross-country models that can handle anything thrown their direction.
But the RS e-tron GT arrives as something completely different. It's the first fully electric RS model and that means it's got to deliver the same kind of experience that you'd expect from one of these models but with a distinctly more battery-powered flavour. We've been finding out what it's like.
What's new?
As we've mentioned, the RS e-tron GT is a fully electric model but there's far more to talk about here than just plug-power. It's also a four-door car with space for five, a decent sized-boot and plenty of in-car technology designed to make long-distance trips a bit easier.
But as the name suggests, this is a car that has been designed to be a 'true' GT car, capable of covering big miles without breaking a sweat. Of course, electric cars aren't often known for this cross-country abilities, but the RS e-tron GT is a car which aims to go against this stereotype.
What's under the bonnet?
The RS e-tron GT uses a dual-motor setup which positions one motor on each axle for quattro four-wheel-drive. Combined, you get an impressive 637bhp and 830Nm of torque. Because it's driven through all four wheels there's plenty of traction and allows the RS to go from 0-60mph in just 3.3 seconds and onwards to a top speed of 155mph.
Range-wise, Audi claims up to 298 miles between trips to the plug. Plus, the ability to charge at rapid speeds means that the RS e-tron GT can be taken from 10 to 80 per cent charge in as little as 23 minutes. Plug in to a conventional 7kW home wallbox and you're looking at a full charge in 14 hours.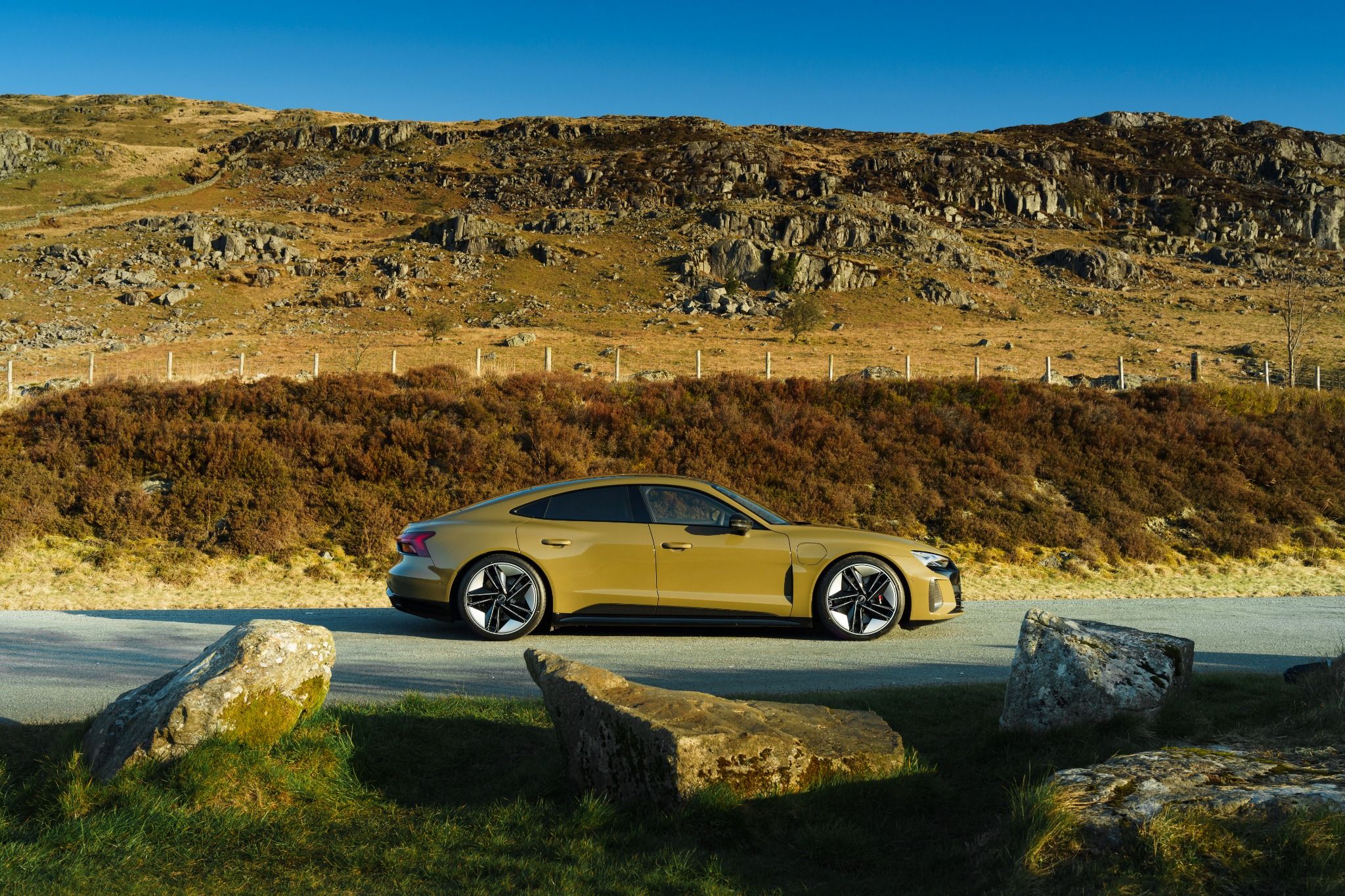 What's it like to drive?
The RS e-tron GT provides the kind of assured, confidence inspiring driving experience that we expect from big, fast Audis. The four-wheel-drive setup means it feels immensely planted regardless of the conditions, while good isolation of outside noises means that the cabin is a quiet place to be at speed as well.
And then there's that sheer awe-inspiring acceleration. Pressing the throttle of the RS e-tron GT instantly sends you hurtling forwards, with the lack of any engine noise being slightly disconcerting at first. It doesn't let up, either, and we feel it would reach its top speed in no time at all.
How does it look?
The e-tron GT has some hallmark Audi design touches such as the large grille design at the front end and prominent badges, but it does take a slightly different approach to other cars in the range. It's a big car, that's for sure, with a long wheelbase which helps to give it a whole lot of presence on the road.
It's low, too, so it all combines to create one sleek-looking model. The RS gets some different touches to the 'regular' e-tron GT, too, such as model-specific badging and a prominent rear diffuser for a go-faster look.
What's it like inside?
As Audi's flagship electric car it'll come as no surprise that the interior of the RS e-tron GT feels very nicely put together. The seats - both front and back - are pleasantly shaped and comfortable, though those rearmost chairs aren't able to offer the best possible headroom as a result of the e-tron's sweeping roofline.
The low ride height makes the e-tron GT feel quite sporty as well, but there's plenty of seat adjustabiity available for the driver so that you can get into the ideal position each and every time.
What's the spec like?
The RS e-tron GT comes equipped with all of the technology you could want. All cars get LED headlights as standard alongside 21-inch diamond-turned alloy wheels, while 'dynamic' indicators ensure that the GT looks futuristic even when it's highlighting which direction it's heading.
Inside, we've got standard-fit sports seats and single, large touchscreen setup which is angled towards the driver. As you might expect, Audi's clever Virtual Cockpit is included as standard as well, while a number of recycled materials are used throughout the cabin too.
Verdict
The RS e-tron GT feels like a fitting range-topper for Audi's line-up of electric vehicles. It's fast, of course, but it backs this firepower up with great handling and a surprisingly refined experience. It's good-looking, too, and comes with plenty of equipment.
Though some might forlorn the lack of a powerful petrol engine under the bonnet, the RS e-tron GT shows that electric performance can still be exciting.