No name is more synonymous with off-roading than Land Rover. Since 1948, every vehicle the brand has produced has had just one thing at its heart – the ability to go where few vehicles dare to tread.
To mark 70 years building the world's best off-roaders, Land Rover invited us to join a grand convoy of cars past and present taking a tour from their Solihull headquarters to the Jaguar Land Rover Classic facility, where they "restore vehicles with a glorious past, so that they can enjoy a glorious future".
Here are just some of the cars from that convoy…
1948 Land Rover HUE 166 'Huey'
'Huey', as he's affectionately known, is the world's oldest production Land Rover, rolling out of the factory on March 11, 1948. We can credit him as the grand-daddy of the whole brand. And don't be fooled, age is just a number, Huey is still as capable off-road as he was 70 years ago, and the team at Land Rover Classic keeps him in fine fettle.
1954 Series I Royal Review
After the limited initial run of cars, Land Rover named them in 'Series' form. This Royal platform is based on a Series I, and offered a way for royalty to see and be seen in equal measure. The royal family are, of course, massive Land Rover fans, with the brand holding a Royal Warrant.
Land Rover Forward Control IIb
Demand for an even more utilitarian Land Rover grew during the 1950s, and eventually the Forward Control was conceived. With the cab positioned over the driving wheels, it was much taller and could carry far larger and heavier loads.
1969 Velar prototype
At the same time as Land Rover's popularity increased, so did the quality of Britain's roads, and the brand conceived a vehicle that would perform as well as the standard Land Rover in the rough stuff, but offer the comfort of a luxury saloon back on tarmac. This Velar prototype was the result, and it soon became the iconic Range Rover.
1989 Land Rover Discovery
As the Range Rover moved further upmarket and the Land Rover (now named Defender) remained the agricultural workhorse, a gap emerged for a family SUV – which Land Rover promptly filled with the seven-seater Discovery.
1989 Camel Trophy Discovery
To prove that the Discovery wasn't just a family bus, it took part in the gruelling Camel Trophy championship – modified with snorkels, winches and roll-cages, and painted in a distinctive 'sandglow' colour scheme.
1998 Freelander 'Fifty 50 Challenge'
By the early 1990s, a new market segment emerged – the compact SUV, and the Freelander was the iconic brand's entrant. Unlike all previous Land Rovers, the Freelander used a monocoque frame; this particular example commemorated the brand's 50th birthday and took a grand tour of the world, visiting 50 countries in 50 days.
2000 Tomb Raider Defender
When it came to kitting out Lara Croft for the 2000 Tomb Raider movie, only a Land Rover Defender would do – with 3.5-litre V8 engines, high-mounted spotlights, in fact everything a hardcore archaeologist could want or need!
Land Rover Defender "Hue 2016"
Celebrating (or more likely, commiserating) the end of Defender production, after over 60 years, was always going to be an emotional time, and Land Rover chose to do it with this 'Heritage' edition – inspired by the original 'Huey'.
2018 Land Rover Defender Works V8
As a last hurrah for the iconic off-roader, Land Rover Classic created these incredible machines. Fitted with a Jaguar-sourced V8 engine, it's good for 400bhp and has been fettled to deal with the extra performance. They're built on late-model Defenders, significantly upgraded inside and out. The run of 150 models sold out in 37 minutes.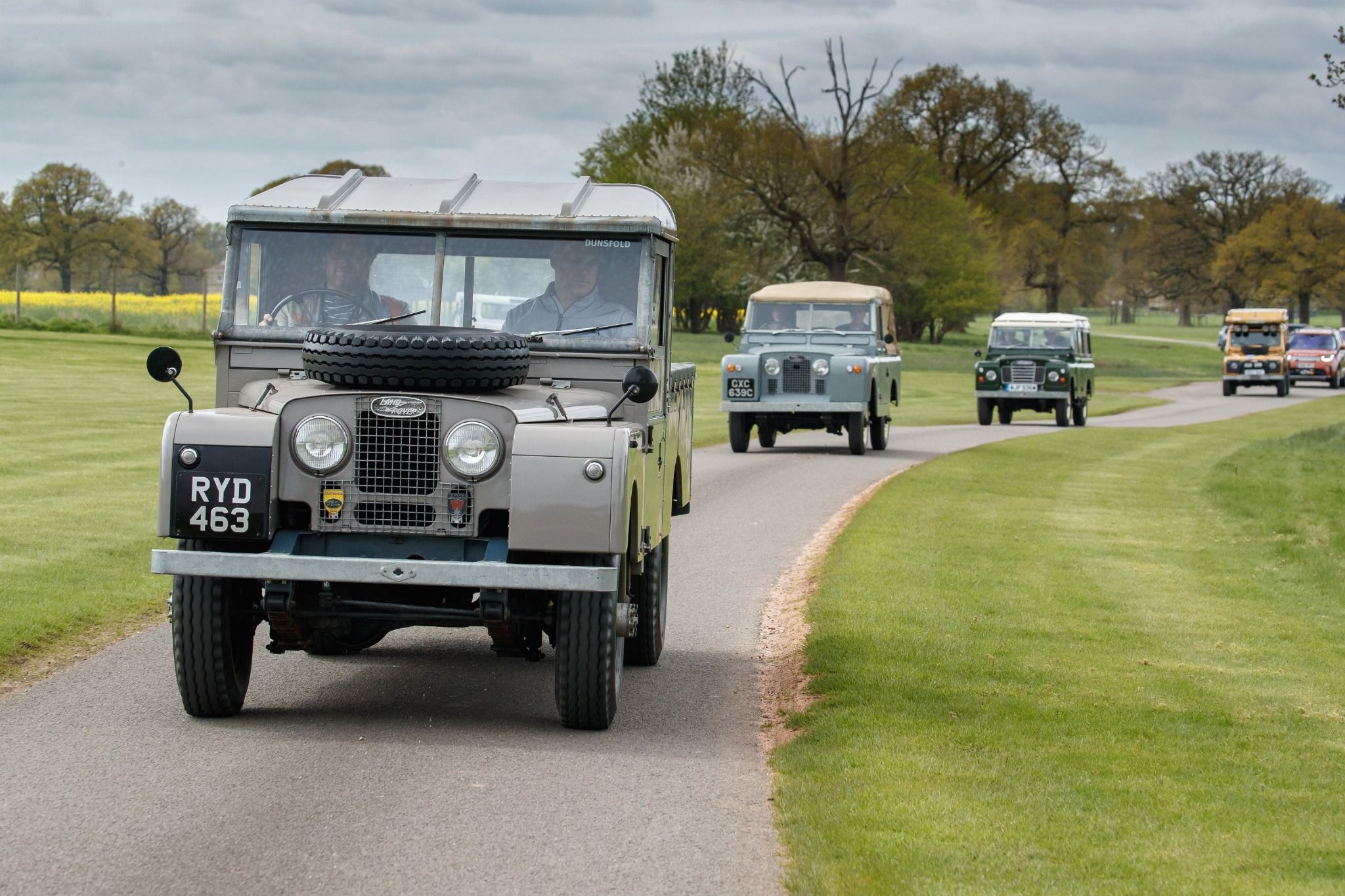 The Land Rover Convoy
Our convoy was just one of many taking place across the world – but with the might of Land Rover's collection, and the generosity of the Heritage Motor Museum at Gaydon, ours was probably the most historically interesting.
The journey took in winding country routes between Land Rover's facility in Solihull and Land Rover Classic in Coventry.
We drove this incredible Discovery 3, built for the G4 challenge – though it never took part. Our convoy was led by a military Land Rover Lightweight, followed by a Series I Range Rover, a bare-metal Defender (left unpainted to show off its aluminium construction) a luxurious Holland & Holland Range Rover, our Discovery, and bought up at the rear by a modern Discovery 5.
We met up with the European press group about a mile from Land Rover Classic, and joined together for a grand convoy – in age order – to finish the day.