What is it?
Volkswagen's SUV line-up has expanded significantly over the years, with customers now being able to choose from eight different high-riding models, including electric models and smaller, more affordable crossovers.
But Volkswagen's original SUV was the Touareg, which remains its flagship model even two generations later. Against more competition than ever, though, is the Touareg still a good buy in the premium SUV segment?
What's new?
The latest generation of Touareg arrived in Volkswagen showrooms back in 2018 and helped to introduce a number of technology advancements. It introduced what was and still Volkswagen's largest touchscreen, while also launching a large digital dial display and a raft of new driver assistance technology.
This latest Touareg also features a bolder design compared to its predecessor, helped by an increase in length and width and striking new grille design.
What's under the bonnet?
Volkswagen has slimmed down the engine line-up on the Touareg recently, with this SUV now offered with a pair of diesel engines and a petrol option, too. All feature an eight-speed Tiptronic automatic gearbox and Volkswagen's 4Motion four-wheel-drive system.
Starting with the diesels, there is a turbocharged 3.0-litre TDI engine, available with outputs of 228bhp or 282bhp. The former can manage 0-60mph in 7.4 seconds, with the extra power of the other version reducing the 0-60mph time to an impressive 6.1 seconds. Both are able to return 34mpg, with CO2 emissions of 216g/km.
If you'd prefer a petrol, there is the 335bhp 3.0-litre TSI turbocharged petrol and it's the quickest Touareg in the range, accelerating from 0-60mph in 5.7 seconds. It is worse on fuel, however, with Volkswagen claiming 25.4mpg and 252g/km CO2 emissions.
What's it like to drive?
Behind the wheel the Touareg is a fantastic all-rounder, majoring on comfort and refinement in particular.
It's very easy to get in the right seating position behind the wheel, as there's loads of adjustability to the seat and steering wheel and the view out is superb – helped by that commanding view of the road and impressive glass area.
The optional air suspension is worth choosing as it leads to sumptuous ride quality, though bringing the freedom to stiffen things up if you want to to liven up the experience.
How does it look?
The Touareg offers a more classy and elegant look than many of its SUV competitors. It's by no means a shrinking violet, but it doesn't shout about its design in the same way that others do.
The large chrome grille is admittedly quite hard to miss, however, but the classy lines and not over-the-top shape is very welcome. Volkswagen does offer a stealthy Black Edition model for those wanting something a bit more aggressive, however.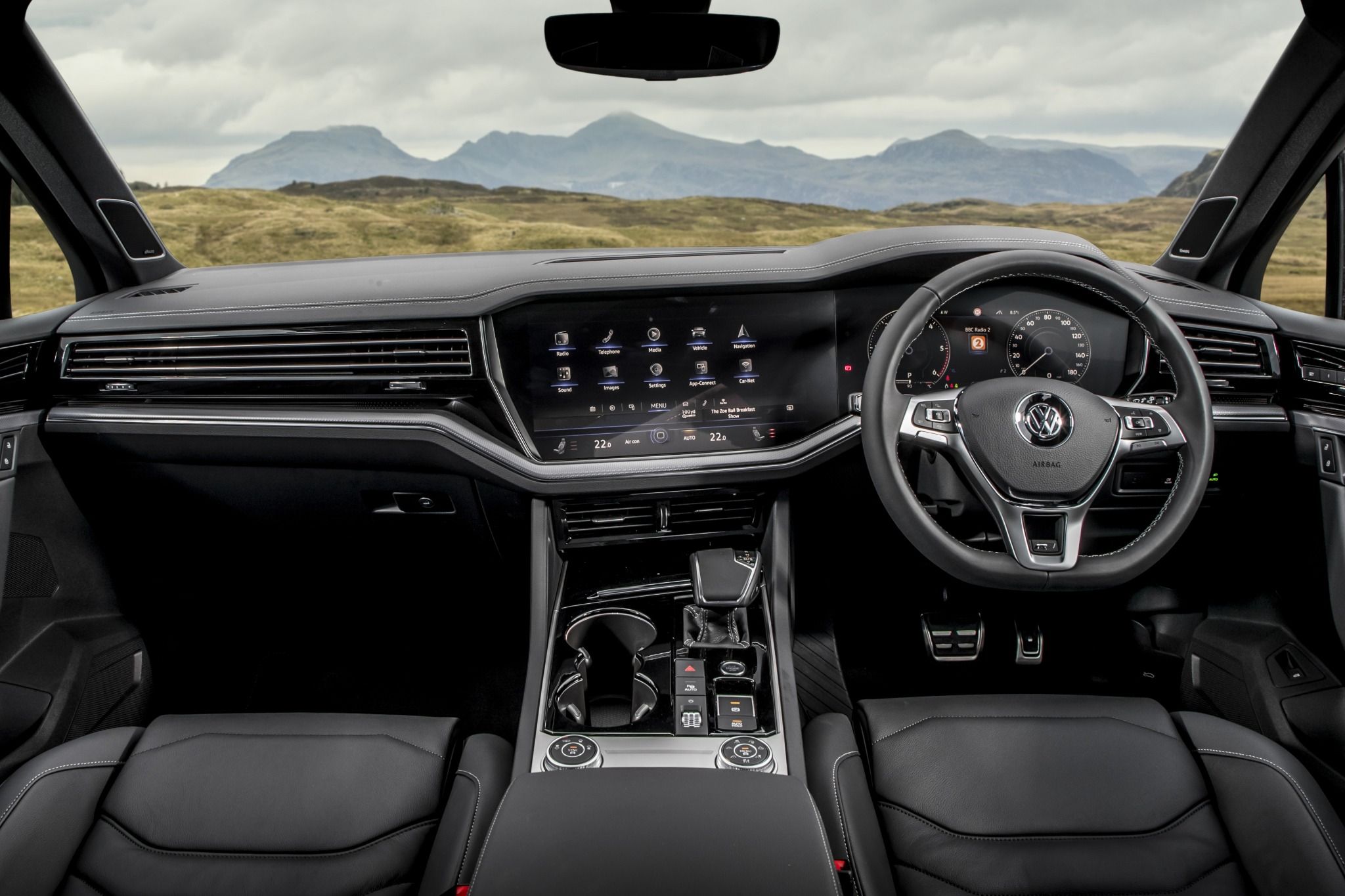 What's it like inside?
Space is the name of the game with the Touareg, and although this large SUV doesn't come with seven seats, the five it has offer a great deal of room.
Those in the rear are treated to a great deal of space, which are suitable even for adults, while the boot measures a huge 810 litres, which extends to a vast 1,800 litres once the rear seats are folded. The quality throughout the Touareg's interior is excellent, and lives up to the flagship status in Volkswagen's line-up.
What's the spec like?
There are just two trim levels offered with the Touareg – SEL and Black Edition.
Standard equipment is fantastic from the offset, including 19-inch alloy wheels, heated front seats, leather upholstery, a large touchscreen and an electric boot.
Upgrading to the Black Edition brings a large 12-inch touchscreen, Matrix LED headlights, park assist and four-zone climate control.
Verdict
The Volkswagen Touareg remains a fantastic premium SUV, offering a great deal of space, quality and a refined and comfortable driving experience.
It ticks every box needed for the premium SUV like this and more, with its high-tech interior and smooth engines only adding to the appeal.
Volkswagen Touareg Stock & Offers
Enquire to find your perfect Volkswagen Touareg