What is it?
Manufacturers love to celebrate a milestone and Volkswagen is no different. In fact, it has recently been 20 years since the release of its famous Golf R, a model that has gone down as one of the most potent hot hatches to grace the market. To celebrate this two-decade anniversary, it has created a special edition version of the current R.
It's called - you guessed it - the Golf R '20 Years', it's a more potent and exclusive version of the current R. Let's see what it's like.
What's new?
As with most celebratory special editions, the 20 Years builds on the standard specification of the regular R with more detailing and a little more power, too. It's also got a tweaked exterior design with more go-faster elements and it's a similar story inside as well.
Plus, the 20 Years will only be produced from October 2022 until mid-way through 2023, so it's going to be one exclusive model.
What's under the bonnet?
The 20 Years uses the same turbocharged 2.0-litre petrol engine as you'll find in the standard R, but Volkswagen has slightly tweaked it to boost power from 316bhp to 328bhp. The 420 Nm of torque you get in the regular car remains unchanged, but the 0-60mph time drops to 4.4 seconds from 4.5 seconds, so it's definitely a little brisker away from the line.
You still get a smooth-shifting eight-speed DSG automatic gearbox and Volkswagen claims that you should see 36.2mpg alongside CO2 emissions of 175g/km.
What's it like to drive?
Kitted out with an optional Akrapovic exhaust, the 20 Years barks into life when you start it up. It's noticeably more characterful on start-up, in fact, but when you move away all seems relatively calm and sedate. The steering is well weighted and, save for the slightly crashy low-speed ride, it feels all very, well, Golf-like.
But that extra slug of power makes itself known when you accelerate hard, with the 20 Years pulling strongly throughout the rev range. It's backed by really pleasant steering, too, while the grip from the all-wheel-drive system is excellent, too.
How does it look?
The 20 Years remains similarly understated to the regular R, but does add in a couple of small changes that help differentiate it from the rest of the pack. There's a large rear spoiler, for instance, while 19-inch contrast alloy wheels finished in black help to add a little extra drama.
Look to the b-pillars and you'll see special '20 Years' badging, too, while opening the doors causes the puddle lights to project a '20 R' logo onto the ground.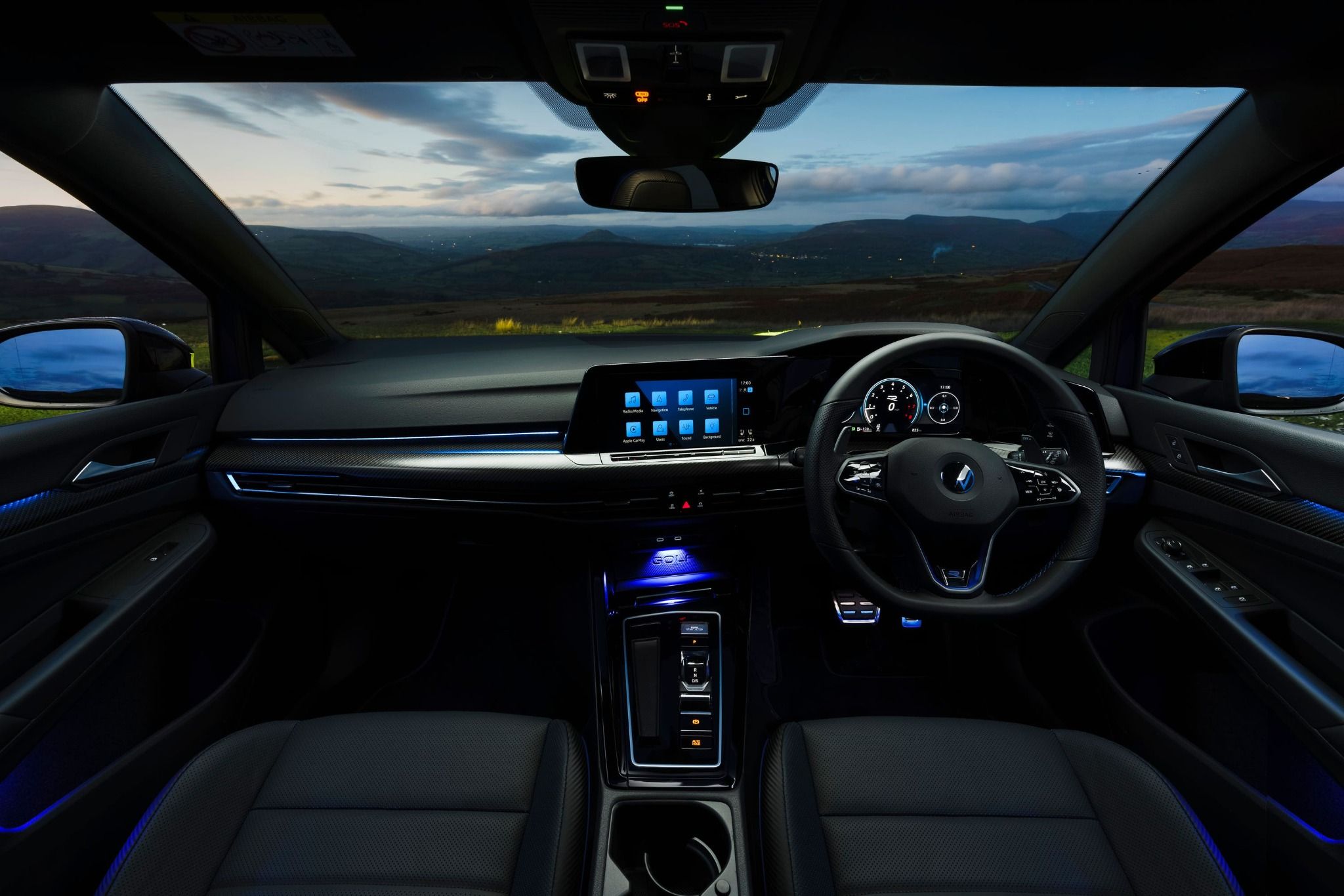 What's it like inside?
As with the regular Golf R, the interior of the '20 Years' is spacious and welcoming. However, it has been spruced up with the fitment of real carbon - a first for a production Volkswagen product - which has been applied to the dashboard and door inserts to make things feel a little sportier.
In the boot there are 341 litres of space to play with and, of course, you can extend this by folding down the rear seats flat.
What's the spec like?
Weighing in at £48,250, the 20 Years is by no means a budget option. However, Volkswagen has looked to strengthen its value by including plenty of standard equipment, from a Discover Navigation infotainment system with a 10-inch screen to the R-Performance pack which would usually be a paid-for option on the standard car.
Due to the limited nature of the 20 Years, it's likely that it'll perform strongly in terms of depreciation - an area where the standard Golf has always done well.
Verdict
The 20 Years is a fine example of what a little extra performance can do to help out a regular car. It does feel quite special, in the metal, while the additional features included as part of the car's price help to make it feel a little better value than its somewhat-scary list price initially leads you to believe.
But what the 20 Years does is remind you of just how accomplished the regular Golf R is. It feels like that's just what Volkswagen is really celebrating.
Browse our latest Volkswagen Golf stock