There was a time when Audi's 'RS' line-up only comprised a few select models.
But in more recent years this German firm has dramatically expanded the choice of RS models on offer. The line-up now consists of hatchbacks, SUVs, saloons, estates and EVs – meaning there's something to satisfy anyone wanting a go-faster Audi.
RS5
Audi's RS5 might have been on sale for a few years now, but if you're in the market for a stylish yet fiercely quick sports model, it remains a fantastic choice.
Available as both a Coupe or a roomier five-door Sportback, each uses a 444bhp 2.9-litre V6 engine that's able to take the RS5 from 0-60mph in as little as 3.7 seconds. The cabin is wonderfully finished in true Audi style, while even the Coupe is practical enough to use as a daily.
RS4
The RS4 is now Audi's longest-running performance nameplate, having been key to the initial success and growth of the firm's RS division. It remains a popular model, and with the same 444 bhp engine under the bonnet as the RS5, is able to crack 0-60 mph in under four seconds.
Yet it's also a wonderfully practical choice, with decent levels of rear seat space and a 495-litre boot, increasing to 1,430 litres with the rear seats folded.
RS6
The ultimate all-round RS model has to be the RS6. Based on Audi's largest estate car, this is a model that can be easily used on a daily basis, yet has the performance to entertain whenever the opportunity presents itself.
The RS6 uses a bigger engine than its smaller siblings – a 4.0-litre twin-turbo V8 engine, which thanks to recent changes, now puts out a huge 621bhp, allowing 0-60mph to be achieved in just 3.2 seconds. At the same time, the boot measures a huge 565 litres, increasing to 1,680 litres once the back seats are folded.
RS7
The RS7 is the RS6's more stylish and slightly less sensible twin, but somehow that makes it all the more appealing. It unsurprisingly shares that car's mighty 621bhp V8 engine, matching the RS6's 3.2-second 0-60mph time.
It's now only available in a new 'Performance' trim, which gets a more aggressive design, improved power and torque, as well as various mechanical changes to enhance the way they drive.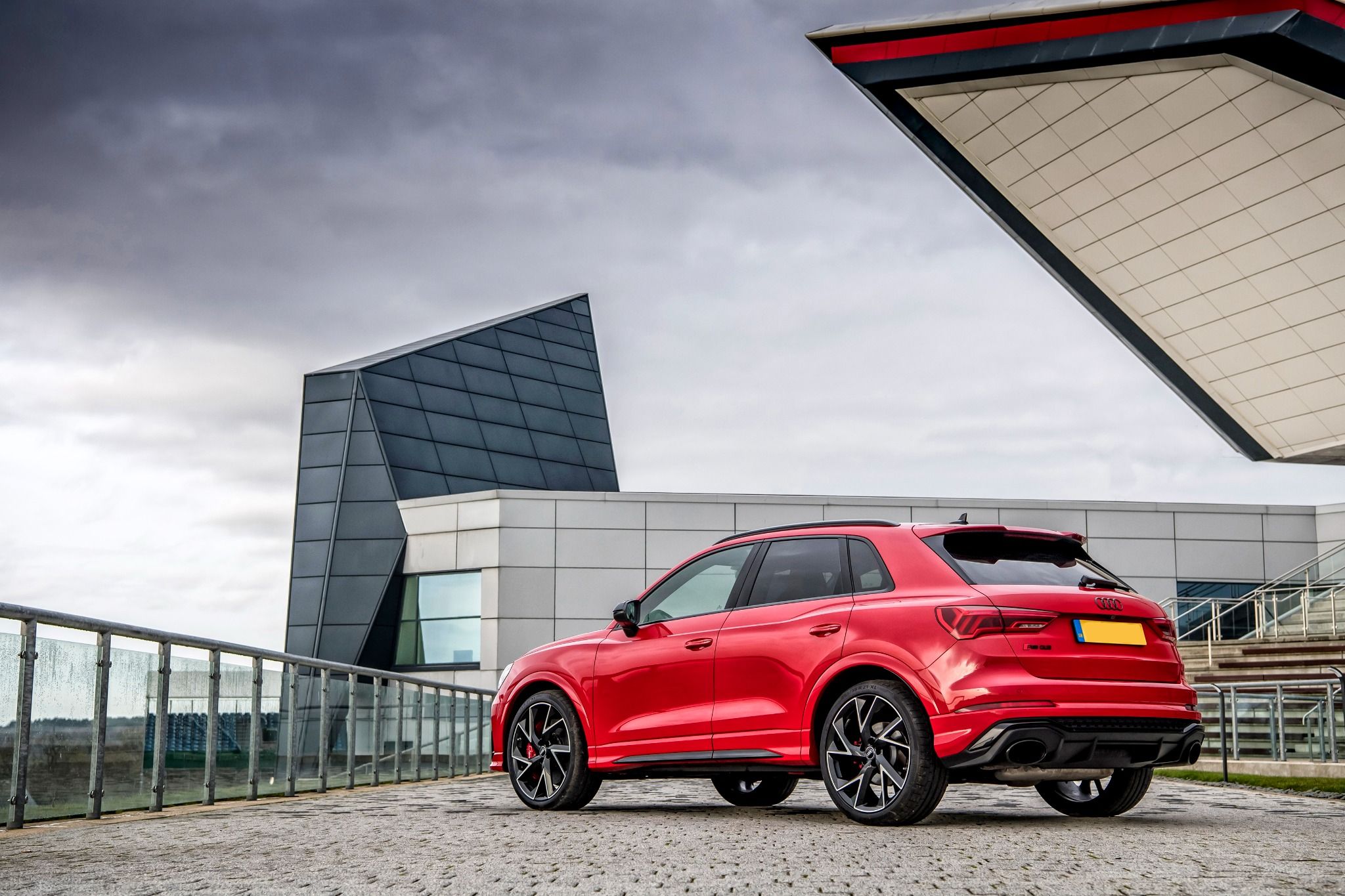 RS Q3
With Audi recently pausing orders for its RS3 hatchback and saloon, the RS Q3 is now the most accessible model in the 'RS' line-up. Don't think that means you should overlook it though.
Oh no, thanks to a wonderfully characterful 395bhp five-cylinder 2.5-litre engine, this compact SUV is able to hit 0-60mph in just 4.3 seconds. It remains practical, too, while Audi also offers a sleeker coupe-like Sportback model too.
RS Q8
Sitting at the top of the line-up as Audi's priciest and most imposing RS model is the RS Q8. Based on the brand's flagship SUV, this is a large model that offers vast amounts of space.
Thanks to the use of a 592bhp 4.0-litre V8 engine, though, it also brings savage performance, with Audi claiming just 3.6 seconds is needed to accelerate from 0-60mph. Equipment levels are especially generous too, with the top-spec Vorsprung trim getting features like ventilated and massaging seats and even soft-closing doors.
TT RS
Last but not least we have the TT RS, and if you want this sporty coupe, you should act fast as Audi is set to discontinue it later in the year, along with the full TT range.
This is a true junior supercar, with incredible cross-distance pace thanks to its 395bhp 2.5-litre engine that unlocks 0-60mph in just 3.5 seconds. You can choose the TT RS as both a coupe and a Roadster too.
RS e-tron GT
Audi's RS works are now branching out into the world of electric cars, with its first model being the exemplary RS e-tron GT. One of the finest performance EVs on the market, this model combines twin electric motors to generate a monstrous 637bhp when launch mode is activated.
That means you can hit 60mph in a fraction over three seconds, while Audi also claims up to 298 miles from a single charge. The RS e-tron GT also offers a stunning exterior design and a high-end interior packed with technology.
Browse our current Audi RS Stock