Volkswagen Golf R v CUPRA Leon
In terms of in-house rivalry, there has always been fierce competition between the Volkswagen Golf R and CUPRA Leon. Both sitting within the Volkswagen Group, the pair do share many key fundamentals but also differ in some key areas.
But what do you need to know about each of them and what are the differences between the two? Let's take a look.
---
Exterior
If you're after cars with relatively understated styling, then you're in luck with both cars here. The Golf R has always been a car to opt for if you don't like shouting about performance, with its relatively subtle front-end styling giving way to a few subtle hints towards the powerful engine under the bonnet. The quad exhaust pipes are now a trademark Golf R touch and they do sign off the whole look nicely.
When it comes to the CUPRA, things are a little more flamboyant. As we've come to expect from CUPRA models there are a variety of copper coloured accents dotted across the Leon's exterior and these do help to separate these cars from the standard SEAT models. Depending on which model of Leon you opt for, you could get similar quad exhaust pipes to the Golf.
Remember as well that both cars here can be specified in either hatch or estate layouts, too.
---
Interior
Both cars here exhibit a great attention to detail as well as plenty of practicality and spaciousness. Because the Golf R uses an all-wheel-drive setup you don't get quite as much boot space as the regular Golf, but there's still a very decent 343 litres on offer - it's 37 litres down on the standard car. This can be extended by folding down the rear seats, of course. Need more space? Then the 611-litre boot in the estate version will no doubt prove appealing.
Things are much the same in the Leon, though you do get a slightly larger boot with a 380-litre load area available in the hatch and a 620-litre space in the estate. Opt for the plug-in hybrid model and you'll see that boot area drop back to 270 litres as a result of the additional batteries.
---
Technology
Since the Leon and CUPRA sit on the same platform, it's likely that you'll notice some similarities between the pair's interiors. They both adopt the same widescreen display and this gives access to all key media and navigation functions. As you'll find in many of the newest Volkswagen Group cars, this screen also manages heating and ventilation controls, though there are some shortcut temperature bars mounted underneath this screen.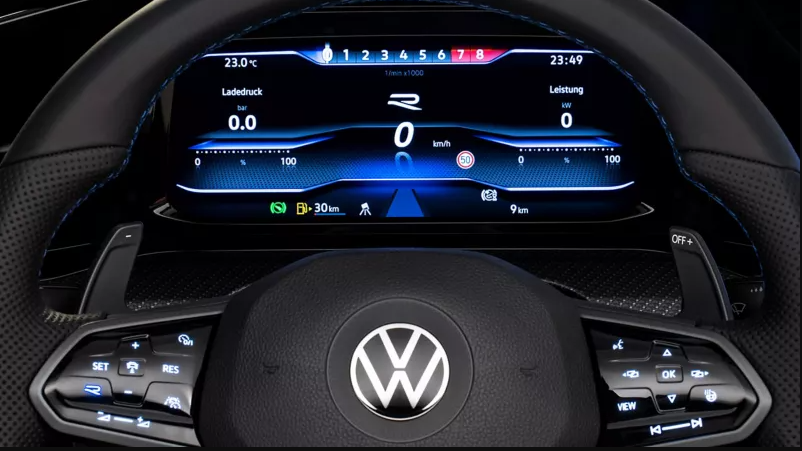 On top of this, you've got a secondary digital dial setup ahead of the driver. This, as well as being clear and simple to read, can be customised to showcase all manner of readouts and information - so it's a really useful piece of technology to have to hand.
---
Engine
The Golf R is powered by a 2.0-litre turbocharged petrol engine with 316bhp and 420Nm of torque. With all of that power sent through an all-wheel-drive system, the Golf R will manage the 0-60mph sprint in just 4.5 seconds and hammer onwards to a top speed of 155mph. Despite that, economy figures of 36.2mpg combined aren't bad while CO2 emissions of 177g/km are pretty respectable too.
There are a few powertrain choices on the CUPRA. You get a similar setup to the Golf R in the Leon 300, which packs a 2.0-litre turbocharged petrol engine with 296bhp. But whereas the Golf uses all-wheel-drive, the Leon 300 sends power to the front wheels only, resulting in a 0-60mph time of 5.5 seconds. The Leon 245, meanwhile, has a detuned version of this engine with 242bhp, so it provides a good compromise. There's then the Leon E-Hybrid, which combines a 1.4-litre turbocharged petrol engine with an electric motor and batteries.
---
Browse the Volkswagen Golf R Browse the CUPRA Leon
Browse used Volkswagen Golf R stock Browse used CUPRA Leon stock